ABOUT MATCHA - HIGH QUALITY TEA
Matcha tea is a Japanese green tea powder. It is a shade grown tea, what means that 4-6 weeks before the harvest, the Camellia Sinensis tea plants are covered with screens. The tea plants are largely shielded from the sun. This process increases the amount of chlorophyll in the leaf and amino acids, which gives the tea its great green color and a umami taste.
In Spring the first flush take place. The youngest and strongest leaves, also known as 'baby or virgin leaves', are picked, steamed, dried till Tencha tea is made. Then the Tencha is ground into ultra-fine powder.
 Nice fact: It takes more than 35 hours to grind 500 grams of matcha!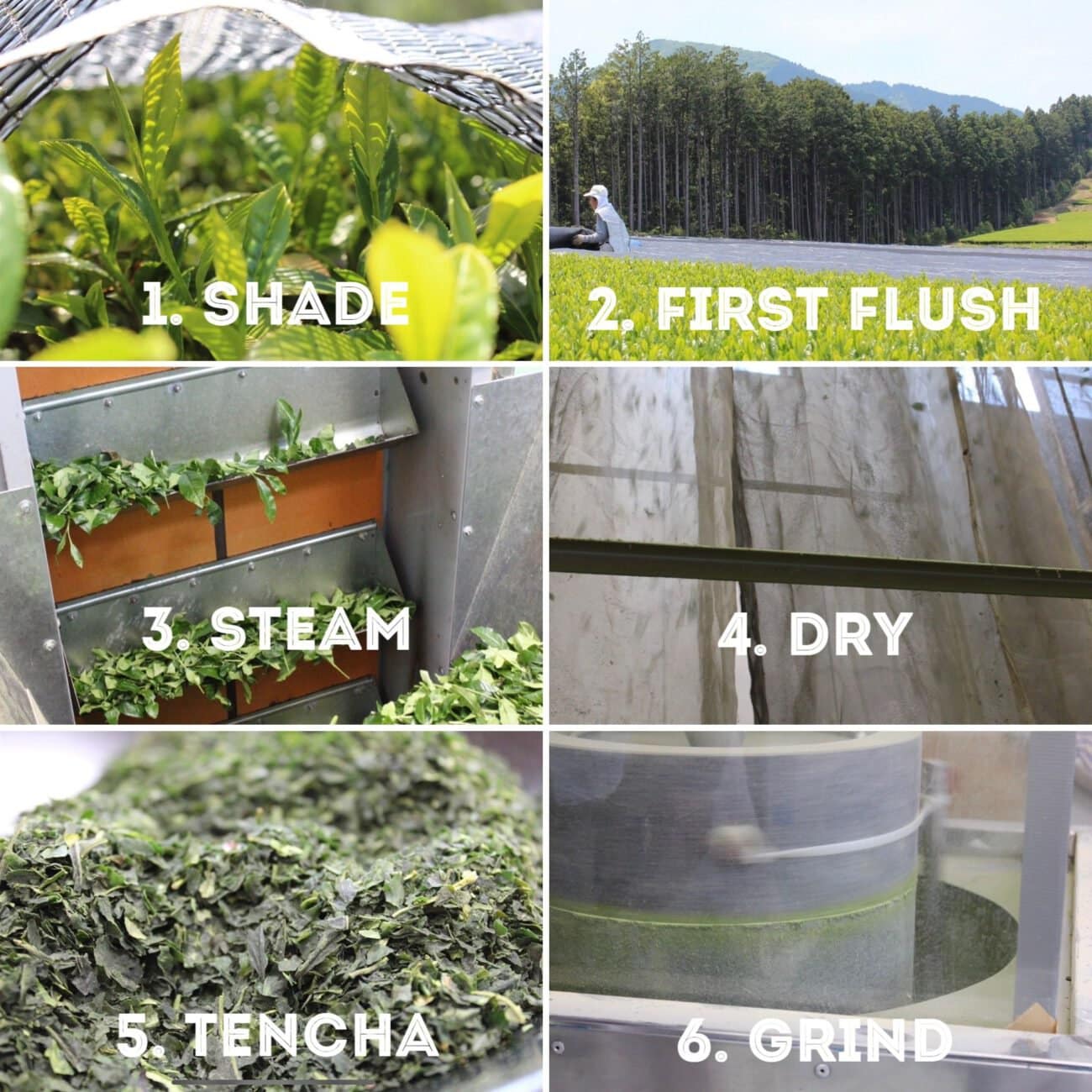 FIVE-STEP PLAN
You 'brew' the Matcha tea traditionally by mixing about one bamboo spoon of Matcha powder with 60 ml of warm water (80 degrees) and whisk it for 20 sec with a bamboo whisk until it is a creamy and foamy green tea.
1. Put 1 bamboo spoon (½ gram) of Ceremonial Matcha in a bowl
2. Add 1 tablespoon of cold/warm water to the bowl
3. Make a smooth paste with the Matcha bamboo whisk
4. Add 60 ml of 80 degrees Celcius water to the bowl
5. Whisk it up for 10-15 seconds in a fast horizontal
movement to get foam on top.
Enjoy your Matcha tea! Also nice as an (Iced) Matcha Latte!
HOW TO MAKE A MATCHA LATTE?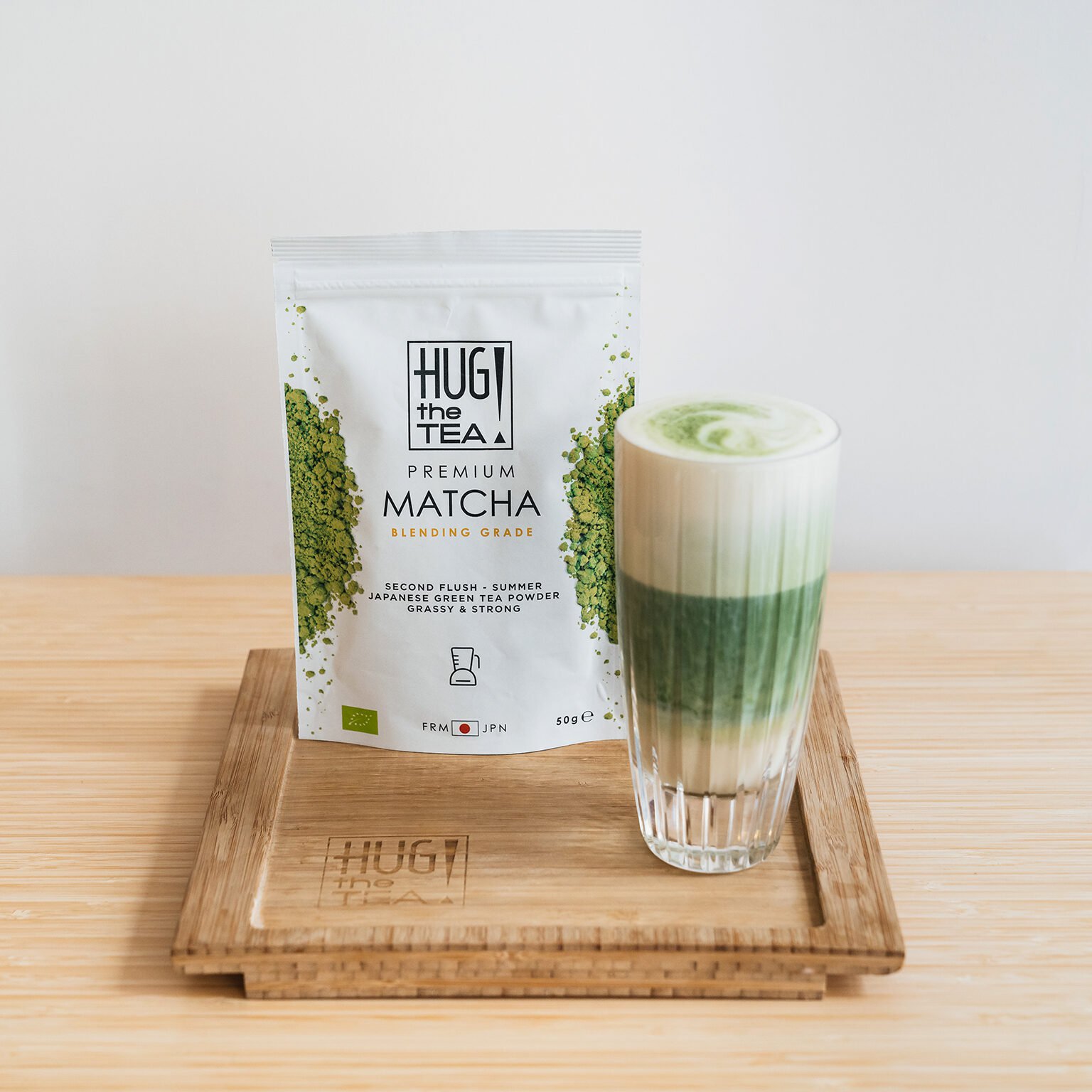 1. Follow the 'five-step plan' as mentioned next to this. Use 2 bamboo spoons (1 gram) Premium Matcha B instead of 1 scoop;
2. Foam 150 ml of plantbased milk in an (electric) milk frother. Tip: use soy milk or oat milk from Oatly;
3. Pour the Matcha from the bowl into a glass or mug;
4. Fill this with the frothed milk;
5. If necessary add some honey or agave syrup (vegan), to make it sweeter.
Enjoy your Matcha Latte!
The best way to prepare matcha is with the Japanese bamboo whisk (chasen). Hug the Tea sells three tyoes of matcha bamboo whisks. Also available in complete matcha sets.
HEALTH BENEFITS
Furthermore, Matcha is high in vitamines (A. B-complex, C, E and K), fibers, chlrorophyll and minerals like: magnesium, selenium, chrome and zinc.
For starters, there is no other natural product as rich in antioxidants as Matcha. So it is really a superfood or actually super tea!
Matcha is a real superfood and has many health benefits:
Detoxifies naturally and effectively and is ideal for detoxing.
It also has a cholesterol-lowering effect. This also applies to blood sugar.
In addition, it stimulates your metabolism and ensures a fast metabolism.
Protects the immune system.
At the same time it stimulates fat burning.
Also contributes to the prevention of (prosperity) diseases, such as obesity and diabetes.
In addition, Japanese green tea powder contains theine (caffeine), which provides a gradual energy boost for 4-6 hours.
L-theanine, Matcha also contains amino acid L-theanine and this has a calming effect, reduces stress, improves mood and concentration.
Matcha green tea powder is rich in antioxidants and catechin, including EGCg: epigallocatechin gallate. This is a unique antioxidant and has many health benefits.
Finally, this green tea has an intense cleansing effect on the skin.
Read below how to make a face mask.
 Matcha is a real SUPERFOOD, or actually SUPER-TEA!
SUPERFOOD
The graph below shows the antioxidant activity for Matcha and a number of known antioxidant-rich foods…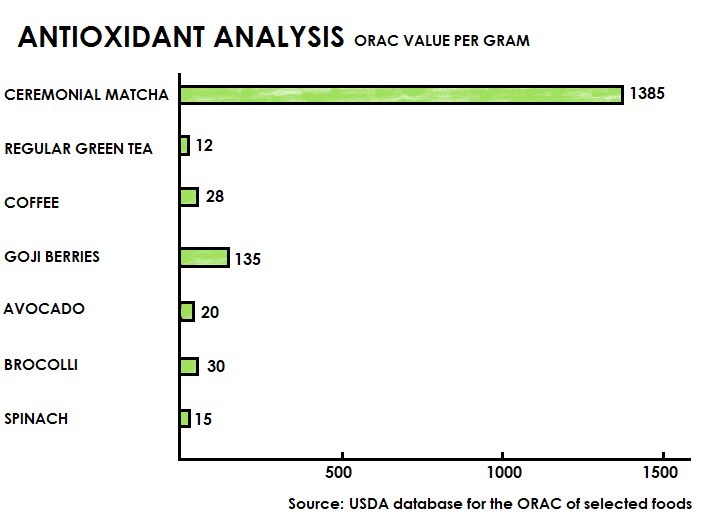 Matcha is very high in antioxidants, especially EGCg. One cup of Matcha contains as many antioxidants as 10 cups of 'normal' green tea:
Matcha is 115x richer in antioxidants than regular green tea.
Matcha contains 92x more antioxidants than spinach.
And 46x more antioxidants than broccoli.
Contains L-Theanine and L-Arginine. Has a calming effect and strengthens the immune system.
FEATURES

Features & possibilities
There are many possibilities with Matcha. With this powdered green tea you can make Matcha Latte with foamed milk.
You can also add Matcha to your fruit- vegetables smoothie. Matcha is a naturel color, so you can also cook and bake with it, for example: Matcha (cheese) cake, cookies, pancakes, tiramisu, ice-cream, milkshake, risotto etc.
Qualities of matcha
There are different qualities & grades in Matcha. We do only sell 100% pure green tea powder. The higher the quality, how greener the color and the better the taste in terms of sweetness and creaminess.
MATCHA FACE MASK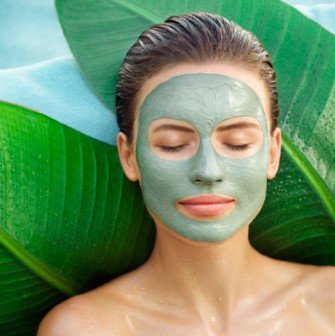 Green tea face mask
Besides consuming and eating Matcha, it is also possible to make a facemask with Matcha.
Make a paste with Matcha and water, you can also add Aloe Vera gel when you have a dry skin
Rub it on your face and leave it for 10-15 minutes.
Rinse off with lukewarm water and a soft washcloth.
Bring your day or night cream on your face.
A Matcha face mask has a cooling effect and the antioxidants reducing inflammation to your skin. It cleans your skin deeply and gives you a silky smooth radiant skin . For best results, you should apply the face mask 2-3 times a week.