HUG THE TEA
- EST. 2015 -
We are Claire & Lisa – sisters, and in 2015 HUG THE TEA has been founded. Adoring and crazy about Matcha, Japanese teas, pure and delicious food, minimalistic interior and entrepreneurship brought us to the point to start this business, specialized in Matcha. An organic and pure tea brand has been born: HUG THE TEA.
STORE & BAR
Our store & bar is located in the historical heart of The Hague. Here we serve and sell our own teabrand HUG THE TEA, teaware and accessories for loose leaf tea and Matcha (Matcha sets).
In the bar we serve all kinds of Matcha drinks (such as the Matcha Teashot and Latte), Matcha treats (such as Matcha macarons, cake and blissballs) and our Japanese teas. You can also have a delish and healthy brunch, lunch or high tea here. Watch the menu here:  Drink – menu & Food – menu 
 TEA TASTINGS
Monthly we take care of Tea Tastings, in which a variety of Japanese teas (incl. Matcha) and bites are served. This is also called 'tea pairing'. We also provide Matcha Workshops, where we show you how to prepare Matcha according to the Japanese Tea Ceremony. And we also organize Japanese Dinner Nights. A three-course dinner in Japanese style. Mostly we work together with a local compant, like de Sushimeisjes and Ohana. We announce this months in advance on our Facebook-page.
 JAPAN
We're importing our organic teas directly from Japan. Areas: Shizuoka, Miyazaki and Kagoshima. Only the very best and youngest tea leaves are picked by Japanese tea farmers in the Spring time. We get the organic teas by air traffic in large vacuum bags and we are packaging the tea into small and bigger (50 g – 1 kg) bags for our store/webshop, restaurants, retail and industry. We are certified tea packers and each teabag is filled and packaged with love and care in our tea warehouse.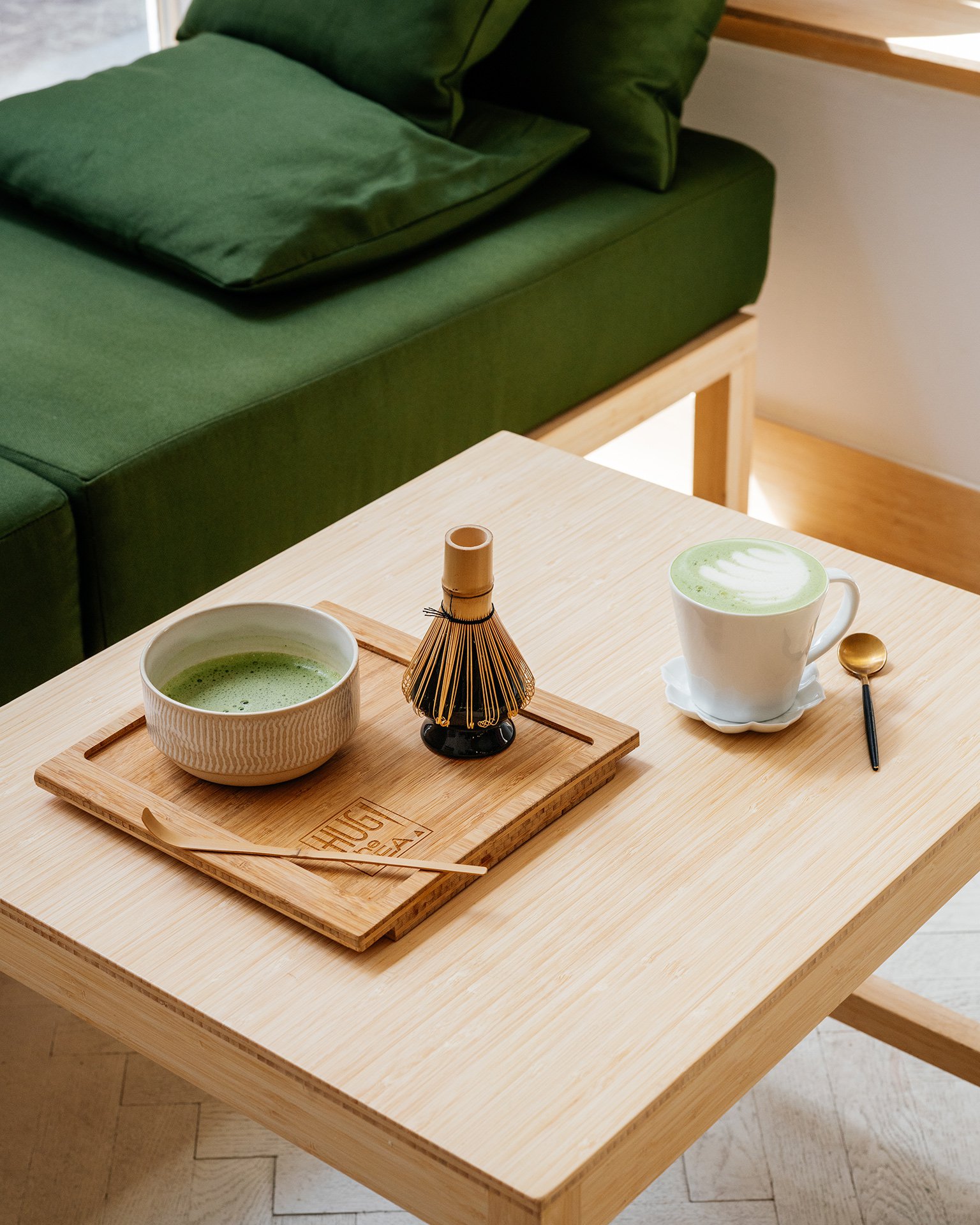 ORGANIC CERTIFIED
HUG THE TEA is a subsidiary of Internatio Allique B.V. As a company, we are certified organic by the government agency Bio Skal. To maintain our Organic Certificate, there are several regulations that we adhere to and we are regularly checked by inspectors from Bio Skal.

HUG THE TEA matcha is also available at Ekoplaza and Marqt. Check out all our selling points in EU here.
Enjoy your cha!
Claire & Lisa, the Tea Sisters