Organic Matcha Ceremonial A – Drinking
This Ceremonial Matcha is a shade grown green tea made of finely stone ground tea leaves from the first harvest of the Spring in Japan.  This is the highest grade. Ceremonial Matcha has a great green color, because it contains a lot of chlorofyl. It is a shade grown green tea that comes in a powdered substance. The tea leaves are steamed, dried and ground into 100% pure teapowder. This quality is made to drink pure and tastes grassy, creamy and light sweet.
The necessities to make Matcha are: a bamboo whisk, a bamboo spoon, a bowl (= Matcha set) 70-80 Celsius degrees water. How to make Matcha?
– Put 1 bamboo spoon (1/2 gram) of Matcha in a bowl
– Add 1 table spoon of water
– Matcha a smooth paste with the bamboo whisk
– Add 60 ml of 75-80 degrees Celcius water to the bowl
– Whisk it up for 20 sec. in a fast W-movement to get foam on top.
– Tip: Make a Matcha Latte!
This green tea powder is is extremely high in antioxidants and vitamins, like catechins (EGCg) and vitamine C, because you are actually consuming the entire tea leaf. No other natural product contains more antioxidants than Matcha, so it is a real superfood! Read here more about the health benefits of Matcha!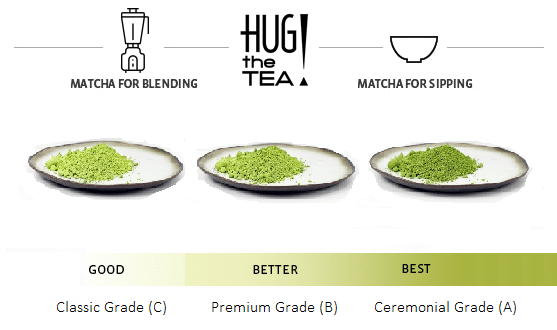 Besides the Ceremonial Matcha A  there are two more grades of Matcha, namely Premium Matcha B and Classic Matcha C. For making a Matcha Latte the Premium Matcha is perfect. For cooking and baking the Classic Matcha is most appropriate, because this grade C is lower in quality (not suitable for drinking) and more bitter and stronger in taste. Perfect for baking a delicious Matcha cake! Read here more about the different grades of Matcha!
50g (= 100 teashots)