BLOG #22: Matcha Green Iced Tea
During the Dutch Tea Festival (last weekend, May 28 2017) we gave a seminar about Matcha in the afternoon. It was a hot day (almost 30 degrees!), so we had a big Kilner tap with fresh Matcha Green Iced Tea with us. After the seminar, everyone could taste the iced tea. There were several people who asked for the recipe, because they loved the iced tea quit a lot. Therefore we share the recipe here with you.
Necessities:
Matcha Premium B – 5-6g per 1 Liter
Fresh Green Tea (Organic Kabusecha) – 10g per 1 Liter

Fresh ginger (approx 1 stink)

Ginger syrup (by Niels de Veye)

Teapot/can with filter (to put the fresh green tea)

Matcha kit: bamboo spoon, whisk and bowl (to whisk the Matcha)

Possibly a sieve

Ice cubes!
Preparation:
First of all, brew a pot of fresh green tea. We used the Japanese green tea Kabusecha, because this tea is mild and fresh. You can brew the green tea warm or cold. If you go for the warm method, you only have to brew the tea for 1-2 min. Then it has to cool down for a while. If it is at room temperature, you can put it in the refrigerator. – You can also choose to brew the green tea cold, but then the « brew-time » of the tea will be longer (this is a matter of taste and test if the tea is well-tasted). With the cold method, you have ICEDtea in a shorter time.
Our advice: Brew it warm at about 60 degrees water , 1-2 minutes brew time (you can brew the green tea 3 times with a brew-time of 1 min) and let it cool down slowly, then the taste is fuller and nicer!
Add the green tea (if it is brewed) into a jar or tap (or remove the filter from the teapot you brewed it in)
Add 1 spoon of ginger syrup and stir for a while to mix the syrup well with the tea.
Allow the tea to cool down to room temperature.
Cut the fresh ginger into thin slices and add it to the green tea.
Put the green tea in the fridge and let it cold down
Now you make the Matcha ready to add to the green iced tea. The Matcha can be whisked hot or cold in the bowl. HOW TO MAKE MATCHA:
You add 2 spoons (bamboo spoon) Matcha B to the bowl, possibly through a sieve, so you have no lumps at all. If you do not have a sieve, add a paste first by adding a little lukewarm water to the Matcha powder and with the bamboo whiske but you have a nice smooth paste here. This is a good basis.

Add 100 ml of water to the bowl, ho or coldt, but not hotter than 80 degrees becaus of the antioxidants and taste of the Matcha. (This also applies to all fresh green tea)

With the bamboo whisk you whisk it in a fast W and 4 motion for 20 seconds.

Add 1 spoon of ginger syrup and stir for a while, so the syrup mixes well with the Matcha.

Allow the Matcha to cool down to room-temperature and add it to the green iced tea.

Put the iced tea in the fridge (min. for half an hour) to get it really cold.

After a couple of hours, take out the fresh ginger pieces, otherwise the iced tea will get too much a ginger flavor.

Add ice cubes to the Matcha Green Iced Tea and it's ready to serve!!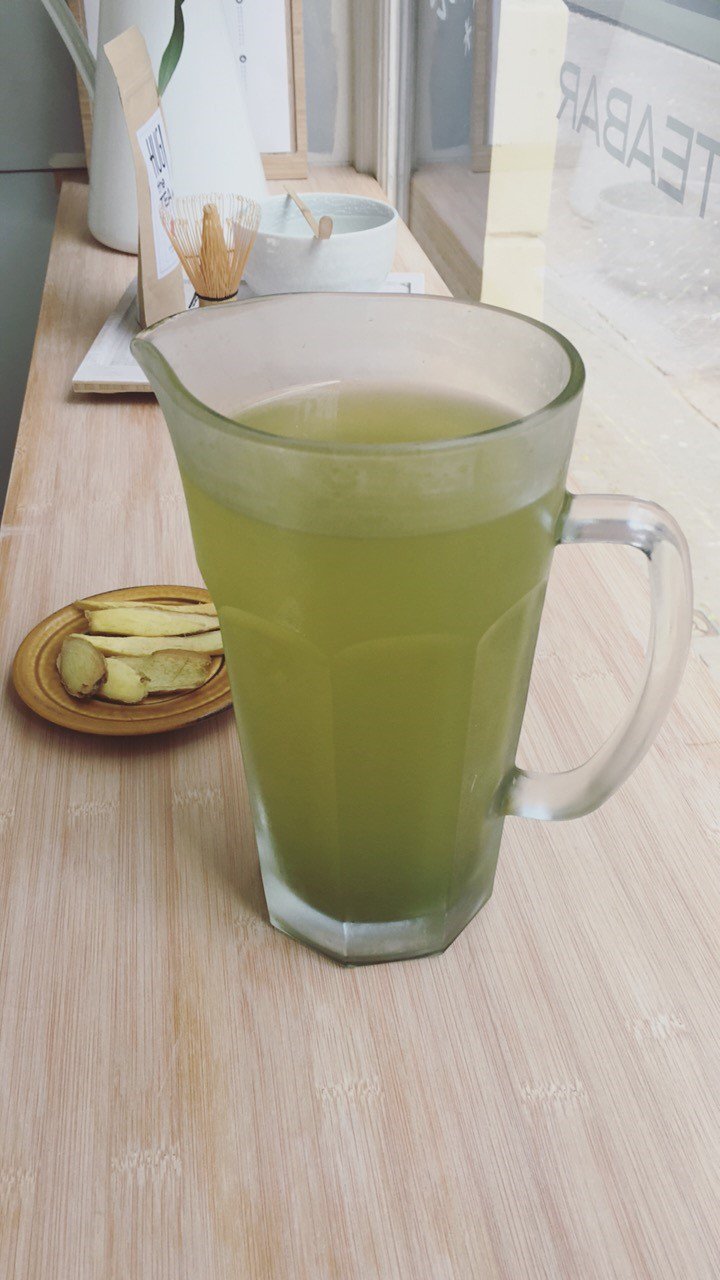 This can be repeated a few more times depending on the amount of iced tea you want to make. A good ratio is:
3/4 green iced tea with ginger and

1/4 Matcha ice tea.
During the Dutch Tea Festival we made about 6-7 liters of Matcha Green Iced Tea with the following ratio:
5 liters green iced tea with ginger and syrup

1.5 liter Matcha ice cream with ginger and syrup

And ice cubes (and some ice water) to get it cold and fresh.
This Matcha Iced Green Tea is a real thirstquencher (during hot days)! There's no sugars added, except the ginger syrup. The ginger syrup geeft the iced tea in a subtle way some sweetness. In addition, this green iced tea is very rich in antioxidants (EGCg) and vitamins (C), so it's also very healthy! You can also add citrus fruit instead of ginger and use honey instead of ginger syrup. Also with citrus fruit it's important that you get it out after a while, so that the citrus flavor does not get too strong and will prevail.
We are curious what you think of this Matcha Iced Green Tea. If you have any questions or comments, you can always send us an e-mail (info@hugthetea.com) or message on Instagram. And you're ALWAYS WELCOME in our teabar in The Hague! 
LET'S SPREAD THE MATCHA LOVE!
Love,
The Tea Sisters (Claire & Lisa)