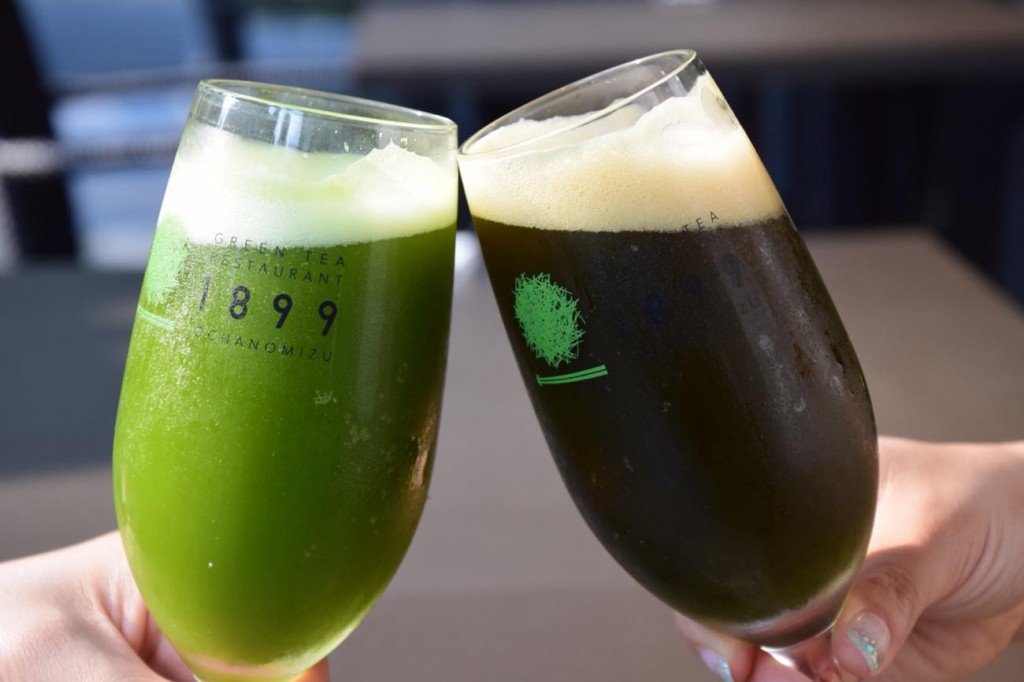 BLOG #6: Green iced tea or beer… The thirstquenchers!
A while ago, we have tried an ice tea brewer at Dok Cookware in The Hague. The ice tea brewer looks pretty cool with the glass bowl and special ice can (see the photo below).We had brought a bag of our Sencha and a coffee- and teaspecialist from Dok made a Sencha green iced tea. This he did as follows:
• Add 12 grams of Sencha green tea to the glass bowl of the ice tea brewer
• Add 100 ml of cold water to the bowl and add some ice cubes
• Keep the green tea extract 1.5 hours in the fridge
• When the extract is ready, let it run into the ice can with ice cubes by pressing the gray button
• Now add some more (ice) water to the extract to dilute it
• Finally you add a few teaspoons of sugar cane syrup (cooking water and cane syrup) to bring a little more sweetness to the green iced tea.
We liked the Sencha green iced tea very well, the taste was very fresh and slightly fruity. Sencha can be a little bitter with too hot temperatures, and icy temperatures makes Sencha just very soft and fruity. Really recommended! We would love to serve iced teas in our teabar this summer 🙂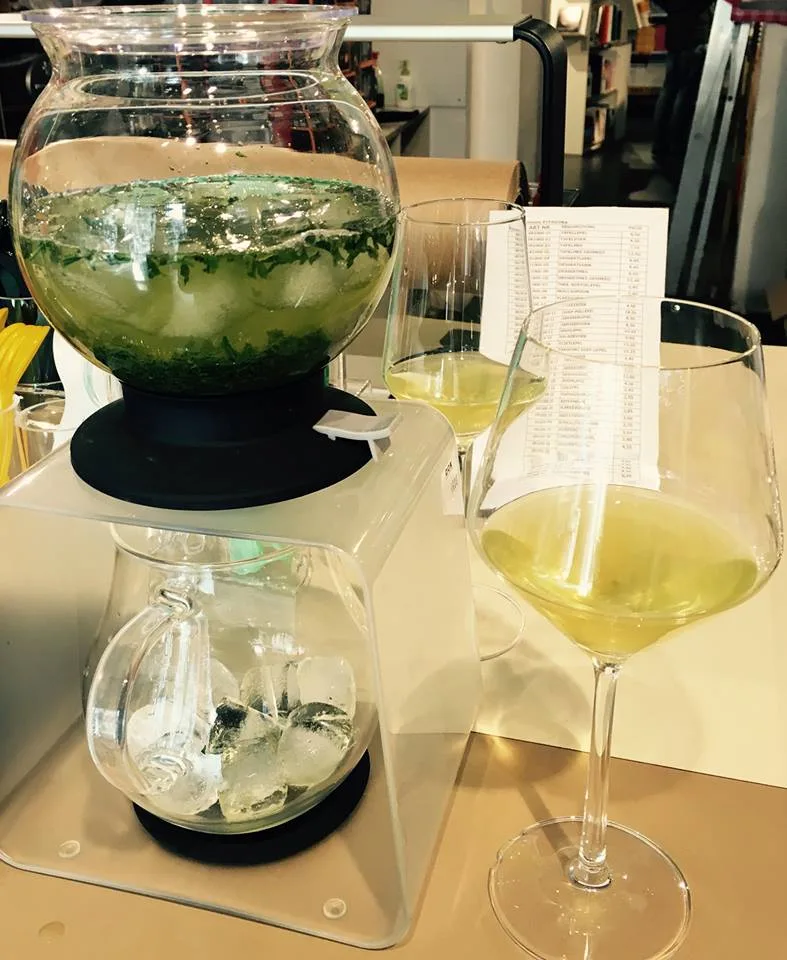 Brewing iced tea is quit easy and simple. You can brew iced tea in two different ways:
Cold method
You take a liter of cold water. Take 6 grams of your favorite (green) tea and put it in a coffee filter or coffee filter bag. When using bags, take two 2 bags in a liter of water. Add any cane syrup or honey. Let the tea in the refrigerator take a half day or night. This method takes longer, but the result is much more sophisticated, your homemade iced tea gets a very subtle flavor. Add any vegetables and serve your iced tea with ice cubes.
Mega fast method
When you acutely get the idea to put iced tea, this is the ideal way. Take a large jug and fill it for a quarter of boiling or hot water (60-80 degrees is the best for green tea). Choose a nice loose (green) tea or coffee filter bags and brew for a few minutes in the can. Are you a sweet tooth? Add some cane sugar (syrup) or honey. Remove the bag and fill the now can with cold water and ice cubes. If necessary, add a wedge of lime, lemon or orange, and a sprig of fresh mint, and in no time you'll have a refreshing homemade ice tea. A delicious thirst quencher!
We have some some iced tea varieties for you with some of our green teas:
Minty Iced Green Tea – Gyokuro: Mint leaves add a cool, invigorating flavor to this simple, Gyokuro antioxidant-rich tea. And studies show that drinking green tea may help fight cancer and heart disease, so savor this iced drink. Ingredients: Fresh mint leaves, Gyokuro green-tea bags, ice, honey or agave Calories: 5 (more if you add honey)
Peach and Mint Iced Tea – Houjicha: You don't have to add any sugar to this drink. Ripe peaches give the tea its tangy and sweet flavors. Make it ahead of time and enjoy a little boost of vitamin C with each glass. Ingredients: 80 degrees water, Houjicha green tea (in bags), ripe peaches, fresh mint Calories: 30
Blueberry-Lemon Iced Tea – Guricha: The antioxidant-packed fruit give some additional sweetness to your tea. Blueberries and lemon provide plenty of tart flavors that is mellowed out by the mildness of the Guricha. Guricha has tones of citrus and berries and a very mild aftertaste of honey. Very nice when you drink it ice-cold with fruits! 🙂 Ingredients: Frozen blueberries, lemon juice, Guricha green tea, water, tea bags Calories: 145 (approximate)
Now something different then iced tea, namely Matcha Beer! They sell it in restaurants and bars in Japan. The deep green colour resembles vegetable juice more than beer. It may take a bit of courage to bring the mug to your mouth… So how does it taste?!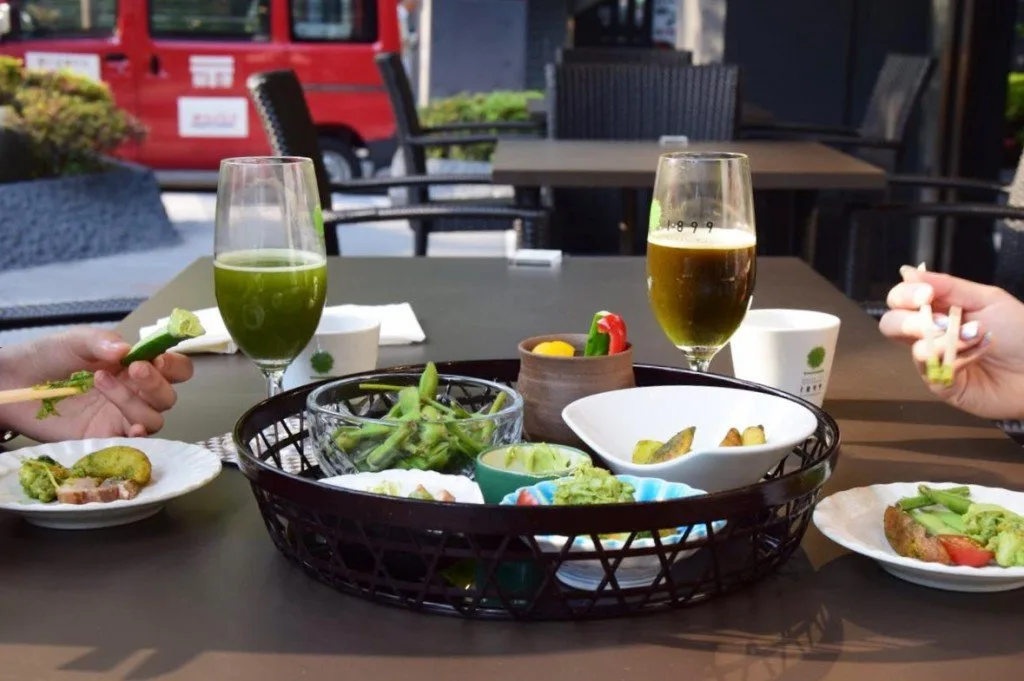 Once you bring the mug to your mouth, you can smell the aroma of tea. While it shares the same refreshness like other beers, it tastes smoother with its matcha flavour. The aroma of matcha remains as aftertaste – simply delicious!
Next, we challenge the new product Matcha Dark Beer. Compared with the Matcha beer, this dark beer is stronger in taste and like caramel, you can taste both the bitterness and sweetness. Of course, you will definitely taste the tea element as well. You will get hooked by this combination: the bittersweet beer and bittersweet matcha.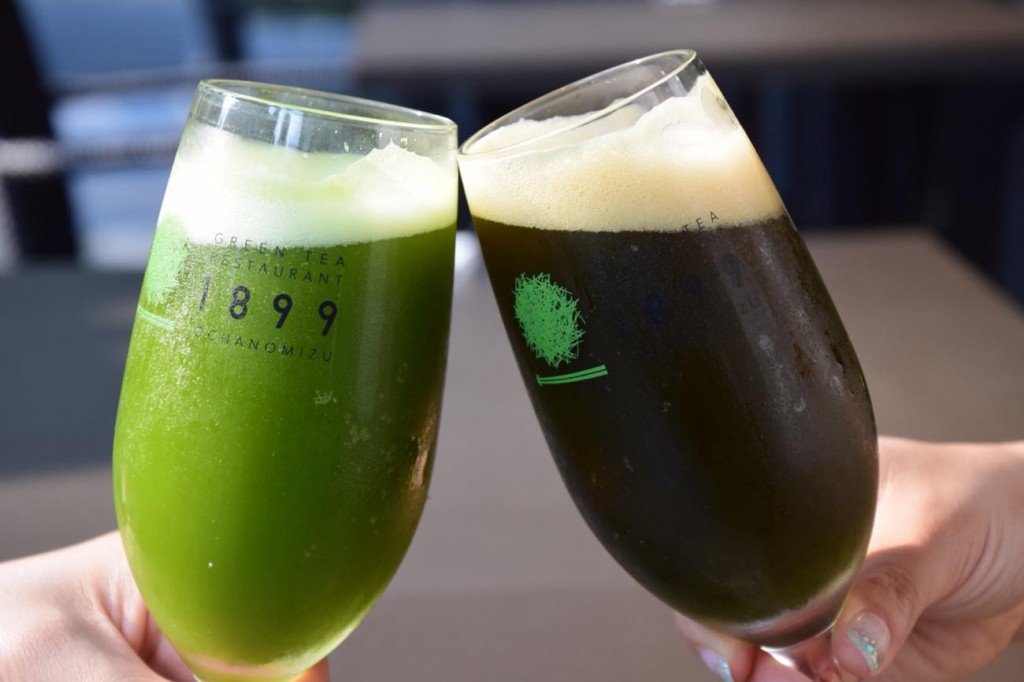 The possibilities with green tea are endless. You can drink it warm and (ice)cold, with milk, in your smoothie, add it to a cake or other recipes. And now you even have a green tea beer!
Keep hugging our teas!